Are you someone who beats themselves up if they mess up? It could be the slightest thing and it just causes a unnecessary down spiral. We often are our worst critics. I think that we sometimes place these unrealistic expectations on ourselves to have it all together all the time. Trust me I know I have, but the Lord has been right there to help me to change this way of thinking. And I want to help you guys who may be struggling in this area, because after all this is what this blog is for right? We aren't expected to be perfect because there is only one who is perfect and His name is Jesus. He is the one who upholds us when we stumble on this journey called life. Continue reading to see how you can get back up after stumbling in your walk with God.
YOU WILL STUMBLE SOMETIMES
During this walk you will get things wrong, but its okay! The trick is not to stay down about it. God understands how we are made and that we are merely dust (Psalm 103:14). Am I giving you an invitation to go and just sin and rely on His grace? No definitely not. Yes, we are covered by grace, but we are not to abuse it by using it as a cover up to do whatever we want. Especially if we know that it is not pleasing to God. But I do believe each time we slip or stumble He is right there to help us up like a loving Father would. In His word it tells us that His mercy towards us is so great it's renewed every morning (Lamentations 3:23) This is proof that God is already accounting the things you will mess up on. He knows about those not so great moments and yet He still wants to help us through them. If He was the mean god that many portray him as, this wouldn't be true. Because If this were the case, we would all be in trouble and hopeless.
Thank God that He is a god that is of hope and wants to fill us with hope! No matter how big the slip up may be it doesn't matter to Him. He is secure in who He is as our God. He knows that he is bigger than anything we face or get ourselves into. We just have to do our part and not let those stumbles to keep us in our sins, because honestly when we do that the enemy is winning. Remember his job is to steal, kill and destroy and he knows that when he keeps you down in your sin you will want to be as far away from God as possible. We all know that when we are doing something that is not pleasing to God and our first reaction is to go away from Him in our shame. We see that with the first humans Adam and Eve. When they ate the forbidden fruit they hid from God when He was going through Eden. Why? Because they were filled with shame. God is not calling us to be in shame. He wants us to be redeemed back to Him, because after all that is why He sent His son Jesus.
IT'S OK TO NOT BE PERFECT
This revelation was difficult for me to grasp. With those pressures I put on myself to be perfect, it was a process to break this mindset. And to be honest, every now and again it tries to resurface. But, I learned the trick to combating this! Once you realize that you weren't called to be a perfect human you will begin to look to the only one who is and trust me He is so amazing. If you are wondering who this person is His name is Jesus. Jesus understands the things that we go through here on this Earth, because He lived it. In the word it says that he understands our weaknesses (Hebrews 4:15) When you understand that you are weak and need a Savior you are guided into humility.
"Jesus is not intimidated by our flaws."
Jesus is more than capable of handling all of our mistakes. He is not intimidated by our flaws. Just realizing that truth is can be life changing. To know that He is the one that is upholding you is empowering. Accepting that your weaknesses (imperfections) causes God's power to rest on you is powerful. It's amazing that what this world sees as a disadvantage, God sees as an opportunity to extend his glory on you.
The one who created the universe is so in love with you that He upholds you with his hand. Not because he has to, but because, He wants to. That is his job as a caring father and as a father he does what protects the well being of his children, which includes you.
Sooo I leave you with this, if at first you don't succeed....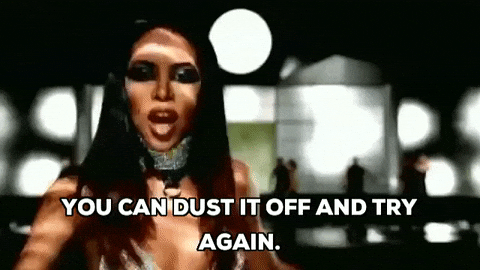 I had to do it yall! Lol Aaliyah was so amazing may she RIP!
Ohh before you go! I did a video on this on my Youtube channel Purity Vanity. If you wanna watch it check it out ➡️ here
As always stay beautiful inside & out!
Shakiya
#walkingbyfaith #lifehurdles #lifeissues #christianlife #howto #glowandgrow